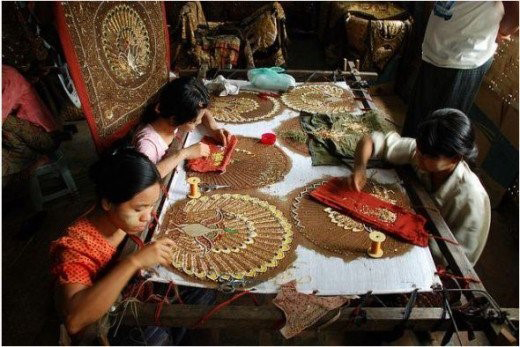 Tapestry originated in Mandalay as famous souvenir is one of Myanmar arts and craft. Myanmar tapestry involves an intricate weaving of colored threads with appliqué work and lavish embellishment with gilded materials and semi precious gems to yield a picture.
The art of Myanmar tapestry work is believed to have its beginnings during the time of King Alaungpaya in the 18th Century. At that time it was very roughly done, and some historians believe that better workmanship was introduced during his son's reign when Thai prisoners of war were brought to the new capital of Ava. The velvet panel is first backed with a sheet of rough cotton cloth to reinforce it, so that it can bear the weight of the embellishments without buckling in the heavier places. On this background, figures of human or animals are appliquéd on with metallic sequins. Cotton wool is stuffed under the appliqués so that the figures stood out in relief. The final touches come from carefully arranged colored and mirrored-glass that have been cut or molded to look like gem cabochons.
The tapestry is widely use as embellishments, like wall-hangings, Marionettes, traditional Myanmar costumes for dance performers, Royal dresses which are to be used in special occasions such as Noviatiation Ceremony. Nowadays tapestry hat & shoulder bags are specially made for souvenirs.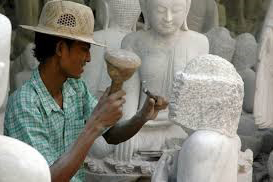 Theravada Buddhism is flourishing in Myanmar at the very beginning of its historical period.  Since Myanmar reveres Buddha, thousands and thousands of temples and stupas have been built in every towns and villages. Even on the summit of remote places there are white-washed pagodas built by the local people.
In each and every temple and stupa at least one Buddha image is enshrined. Myanmar has millions of Buddha images of various sizes are enshrined at the Pagodas, stupas, temples and in monasteries. These Buddha images are made out of stone, brick, wood, metal, alloy and plaster.
Among stones, marble is rated the best in texture, hardness and beauty. In Myanmar marble is called Sagyin, which derives from Sagyin hill. Originally Sagyin is the name of the village in Madaya Township, 21 miles to the north of Mandalay.
A mountain range consists of 7 hills – four to the north and three to the south of village. Because the mountain range lies near Sagyin Village, it acquired the name Sagyin Hill and the marble stone produced are called Sagyin stone. As the Sagyin Hill range is an offshoot of the mountains of Mogok, the world renowned ruby land, there are some ruby mines in Sagyin Hills. But the hills are more well-known for their marble which varies in colour from pure white to bluish gray.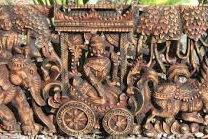 Since Myanmar produce good quality teak wood, lavish embellishment with wood-carvings can be seen at the religious buildings and hotels. Wood-carving furniture and other decorative materials are widely used in Myanmar.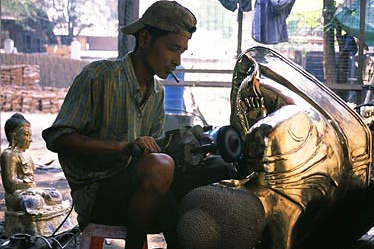 In Mandalay, ancient brass molding factories produce innumerable Buddha images and other decorated objects. They are still using primitive technique very skillfully.
In Myanmar, gold-leaves are widely sold at the famous pagodas to gild the Buddha image or stupa with gold-leaf. This is the Myanmar tradition for meritorious deeds. These gold-leaves are originally made in Mandalay. Mandalay's gold-leaf makers are concentrated in the south-east of the city, near the intersection of 36th and 78th Sts. Sheets of gold are beaten into gossamer-thin pieces which are cut into squares and sold in packets to devotees to use for gilding images or even whole stupa. The typical gold-leaf square measures just 0.000127 cm, thinner than ink on the printed page. Gilding a Buddha image or a stupa with gold leaf brings great merit to the gilder, so there is a steady growth of gold leaf on many images in Myanmar.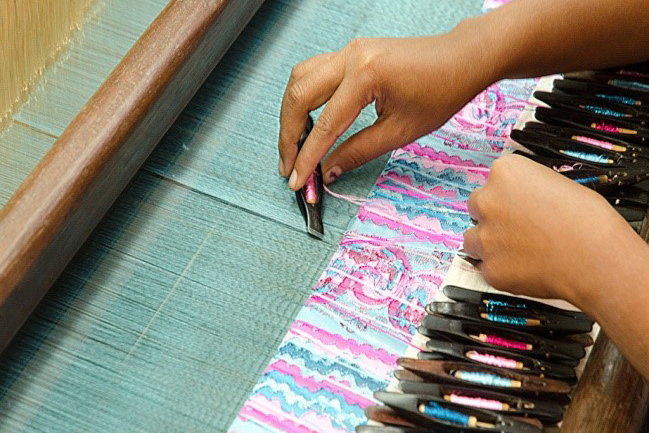 Both male and female Myanmar used to dress silk at the special occasions like wedding ceremonies, religious ceremonies and other grand occasions as the ceremonial dress.
Mandalay and Inle are the origins of silk fabric in Myanmar. Silk is made from fine, soft thread produced by silkworms. Pyin Oo Lwin and Shan States have favourable climate to grow Mulberry trees, whose leaves are feed of the silkworms. Silkworms are reared in that region at the economical scale. Silk threads are extracted from the cocoon of the silkworm larva. Rearing of silkworm is called sericulture. This is an interesting process that you should study while you are visiting Pyin Oo Lwin.Tiny silk yarn from silkworm cocoon has been spun to get a thread for weaving. Both spinning and weaving are done manually by wooden spinning machine and wooden hand looms. Myanmar silk is genuinely handmade. Silk fabrics made in Shan State has similar patterns to Thai silk. Made in Mandalay silk is thicker with zigzag patterns and multi- colored. To enable to get that kind of cloth, a hundred spindles are used on a loom. Silk weaving factories  in Mandalay and Inle are one of the 'must' visit places.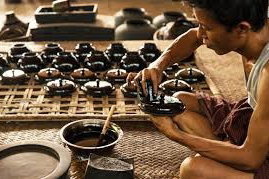 Lacquer ware is a famous local craft that has developed over time into an art form of refined quality. Lacquer ware is crafted from a mixture of the sap thitsi tree and ash applied on the surface of objects such as woven bamboo or wood. At present Bagan area is the most famous producst site. Myanmar traditional rice bowl lacquer ware is products of famous Kyauk Kar village near Monywa, Sagaing Division. Shan lacquer ware products such as meal table and soup bowl are from areas in Shan State. Lacquer ware is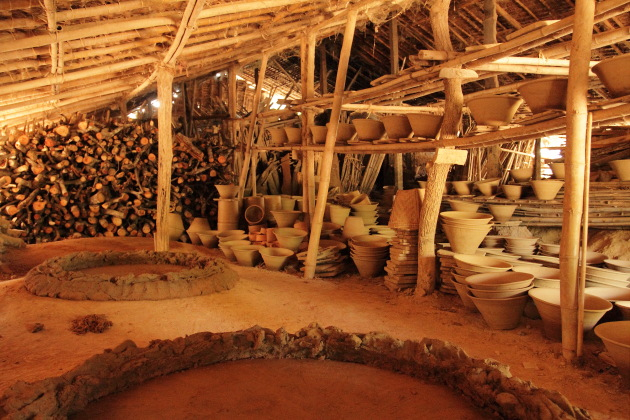 Pottery has a long tradition in Myanmar. The light green glaze used in 11th century Bagan was considered by ceramic experts to be unique to the country. Old celadon kilns have been discovered by the hundreds in the Ayeyarwady delta.The country's main pottery production centre is Kyauk Myaung, a town on the Ayeyarwaddy River in upper Myanmar. A much older pottery producing centre is Twante, in the delta not far from Yangon. Smaller potteries are found all over the country, with various national races producing their own style of terracotta or glazed ware.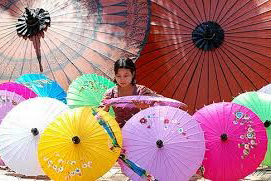 Silk umbrellas with wood and bamboo frame are made in Pathein, while red and brown ones are made in Shan State. Large garden umbrellas are made in both places.