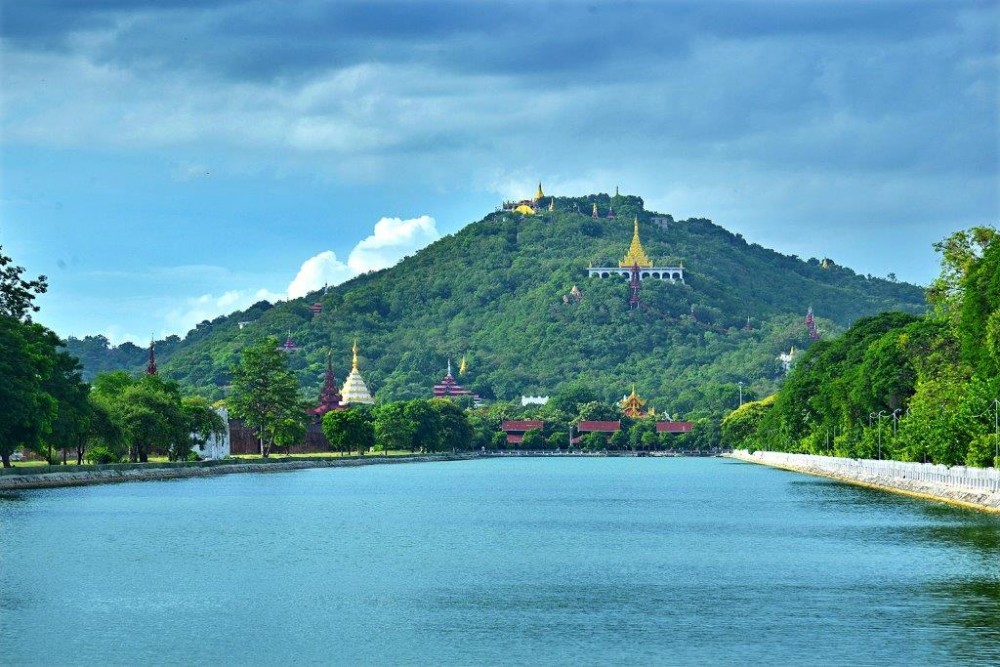 Mandalay the second largest city 668 km north of Yangon, was the last capital of Myanmar Dynasty. Mandalay together with its neighboring ancient cities Mingun, Sagaing, Ava and Amarapura have rich cultural inheritance, famous temples, traditional arts and crafts.
In 1857 a grand Royal Palace protected on four sides by immense walls measuring 8m in height and 3m thick made of fired brick backed by earth ramparts was finished.
Each side of the walls is 2km long and surrounded with 70m wide and 3m deep moats. Inside that secured fort were the Royal Palace comprises the elegant buildings such as great Audience Hall, the Chamber of the Lion Throne and other chambers, Pavilions, Treasury, Glass Palace, Watch Tower, Armory and so on. All the Royal Buildings were built with massive teak wood and decorated with beautiful Myanmar Traditional fine carvings and most of them are gilded. During WW II on 20th March 1945, the Royal Palace caught fire and was completely burnt out.
In 1996 it was restored to its former shape constructed by reinforced concrete and wood.
Mandalay is famous for its cultural inheritance and religious importance. Mandalay houses at least a third of the nation's 500,000 monks and nuns. Since Mandalay is a major crafts center, brass molding works, marble stone carving, gold leaf beating, tapestry work shop, silk weaving, silver smiting works, bamboo fan factory are the places of interest.
Mandalay International Airport is 50 km outside the city takes 60 to 75 minutes.
Accommodation is as good as in Yangon. Variety of hotels and restaurants with good services are available.
Mandalay has many places to be explored either in the city or in the vicinity. Interested visitors need at least 3 days to complete the sightseeing in and around Mandalay.
Dinning
Hygienic and decent Chinese and Myanmar restaurants are in Mandalay and Sagaing. Mandalay noodle is famous for breakfast and lunch. Teashops offer good nan, parata and chapati. You can have good south Indian food as well as area local delicacies. Restaurant
Highlights
Traditional dance and drama from cultural centre of Myanmar.
Mandalay Hill, with spiraling stairways, temples and sweeping views.
Ancient Rakhaing Buddha Image at Mahamuni Pagoda.
Kuthodaw Pagoda, the world's biggest book.
Bustling markets with produce and handicrafts from Upper Myanmar.