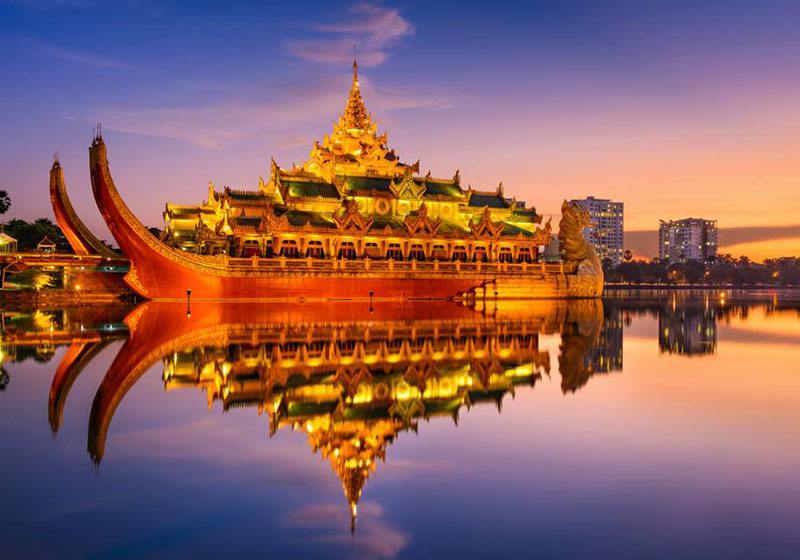 Yangon, the gateway to Myanmar is Extraordinary; because of the magnificent Golden Stupa, Shwedagon Pagoda, which is towering over the city on the Singuttara Hill-lock (58 m) above sea level.Since the entire city is ornamented with lush green shady trees, beautiful parks and scenic natural lakes, it seems to adorn and revered the holy Shwedagon Pagoda which is one of the wonders of the world.. Central Yangon is just 10 miles from Yangon International Airport, about 90 minutes drive depending on the traffic. The streets in the downtown are wide and carefully laid out on a typical easy to navigate grid system. Then downtown is a relatively simple area to find your way around, and pleasant enough to explore on foot. The British established, Yangon as their capital in 1882 after they won control over whole of Myanmar. They built many beautiful colonial buildings, some are ornate red brick and others with cream-painted Corinthian columns rising three stories. All of them are well maintained and still magnificent. In the bustle of central Yangon, Sule Pagoda is a small oasis of calm. The grand City hall and Independent monument rise from both side of it, while a church and a mosque are on the other two corners. Further down the road to the east is a Hindu temple. Thus the religions existing side by side in the city's exact centre symbolizes the harmony among the country's races and religions.
Yangon, the most heavily populated city in Myanmar with about six million has streets that are safe any time of the day and night. The city has the river port as it is bounded to the south and west by the Yangon River. Yangon has a lush, park like and tranquil atmosphere.
Yangon has some interesting culinary possibilities since there are Chinese, Indian, Japanese, Thai, Vietnamese, Korean, French and Italian restaurants. For transportation, tour operators use deluxe sightseeing vehicles. Taxies are available everywhere in the city. All other tourist destinations are accessible from Yangon by air or by land.
Dinning
Varieties of food are available elsewhere in Yangon-: Myanmar, Chinese, Indian, Singaporean, Thai, Vietnamese, Japan, Korean, French and Italian. Chinese restaurants are the majority, in the nice locations with singers on the stage. For vegetarians, Chinese and Indian vegetarian food is also available in downtown area. A few restaurants offer buffet dinner with Myanmar cultural show. Small restaurants which offer light Chinese food can be found all over Yangon. Street side food stalls in China town sell varieties of delicacies, offering Myanmar, Shan & Chinese food. Restaurants»
Highlights
Glittering Shwedagon Pagoda with its dazzling mix of pavilions, stupas, images and bells.
Chaukhtat Kyi (six-story) Pagoda, houses the fourth largest colossal Reclining Buddha Image with an enigmatic smile on his delicate lips of old Yangon including the legendary Strand Hotel.
Serene Sule Pagoda in the heart of the busy city centre.
Sprawling Bogyoke Aung San Market and Theingyi Zei