Tour Code

 ASB/CUL-03

Destination

Yangon, Kyaikhtiyo, Bago

Routes

Day 01:

Yangon Arrival, Sightseeing

Day 02:

Yangon-Kyaikhtiyoe, Sightseeing by car

Day 03:

Kyaikhtiyo-Bago-Yangon, Departure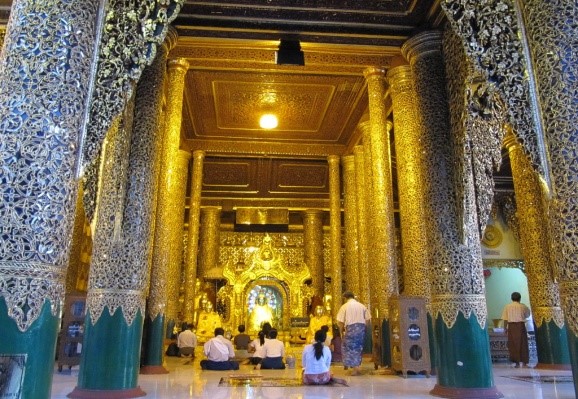 Arrive at Yangon Int'l Airport by morning flight. Welcome by our tour guide. On the way to hotel, visit Lawkachantha Abaya Labamuni Buddha Image being curved from a Superlative Monolithic marble stone, Kaba Aye Mahapathana Cave (World Peace) Pagoda, walk into the Great Cave (man – made cave), which was built to hold sixth synod of Buddhist monks in order to revise the Buddhist scriptures. Then transfer to hotel. Afternoon sightseeing commence from Chauhtatgyi Pagoda – a huge reclining Buddha,
Bogyoke Aung San Market before called Scott's Market, where one can buy many items in one place. This Market was built in British colonial times and has a colonial shape, visit and watch the sunset at the Glorious Shwedagon Pagoda – over 2500 years old and one of the world's most spectacular religious monuments . Dinner at Karaweik Royal Berge with cultural show. Stay overnight at hotel in Yangon.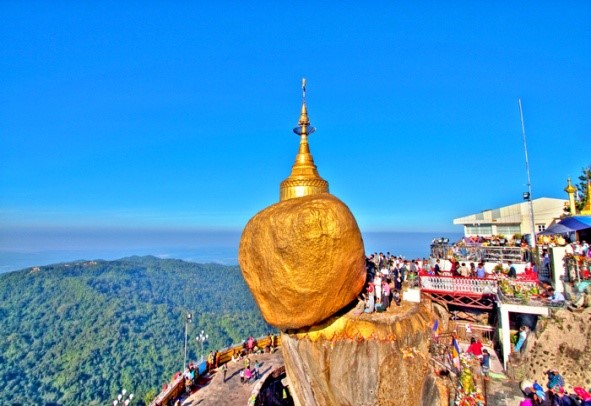 After breakfast, transfer to Kyaikhtiyo (Golden Rock) 'base camp' . From Kinpun, a steep and dirt 11km mountain road leads to the upper camp by open truck. From that upper camp, walk to the final stage about 45 minutes, up steep paths to the Kyaikhtiyo Pagoda, a small stupa sits on top of a huge boulder covered in gold leaf, which balances on the edge of a cliff at the top of Kyaikhto Mountain. Legend has it that the boulder balances on the cliff thanks to the hair of the Buddha, which is preserved inside the stupa. As an
easier alternative to walking, travelers can be carried in sedan chairs by four porters. A spectacular view will waiting at the top, especially at sun rise or sunset. Dinner and overnight at the hotel, Kyaikhtiyo.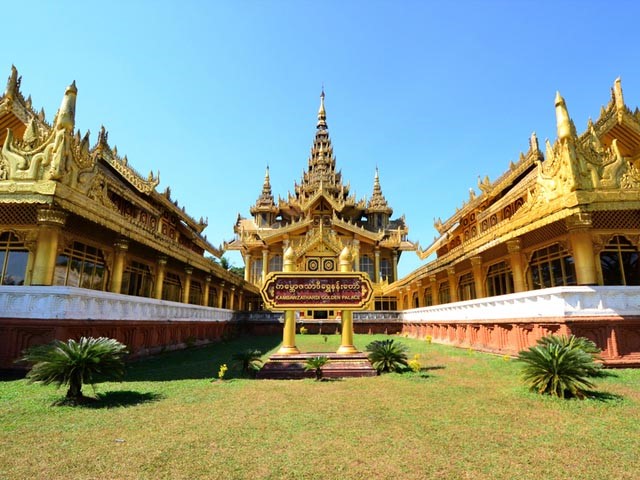 Drive back to Yangon. On the way visit Bago sightseeing includes Shwe Maw Daw Pagoda, over a thousand years old which is even taller than the Shwedagon Pagoda of Yangon, ShweTha Lyaung Reclining Buddha Image, 55 meters long and one of the country's most revered. Proceed to Kalyani Sima (Ordination Hall) to study a stone inscription of historical interest. Continue to Maha Cedi Pagoda, from which upper most terraces, magnificent panoramic view of the Bago Plains can be seen. Lunch at a local
restaurant. Also, make visits to a cheroot factory in Bago and Kyaik Pon Buddha Images, built in 1476 by King Dhammazedi. Four huge sitting Buddhas placed back to back around a huge square pillar and 30m high four Buddha images represent the four Buddhas already enlightened in this world. Dinner at a local restaurant.Transfer to the airport for departure by evening flight.
TOUR PRICES : Contact Us
Prices inclusive of:
• Hotels (Twin sharing) with breakfast
• Boat fare
• Transfer & transportation with air-conditioned vehicles
• Throughout English speaking guide fee
• Porter charges
• Welcome dinner
Prices exclusive of:
• Entrance fees
• International air fare
• Visa fee
• Airport tax
• Meals
• Beverages
• Personal expenses (Tel: call, laundry, etc.)
Surcharge for compulsory Christmas and New Year Dinner will be subject to confirm at time of booking.
All prices quoted to the Client/Agent are on a net basis and in United States Dollars and valid according to the date specified on the Bravo Travels printed tariffs and/or quotation and/or invoice issued to the Client/Agent. Bravo Travels warrants that the prices or rates quoted to the Client/Agent are correct at the time of issue but are subject to change in line with market, tax or currency fluctuation, with or without prior notice.